Saint Lucia is an Eastern Caribbean island nation with a pair of dramatically tapered mountains, the Pitons, on its west coast. Its coast is home to volcanic beaches, reef-diving sites, luxury resorts and fishing villages. Trails in the interior rainforest lead to waterfalls like the 15m-high Toraille, which pours over a cliff into a garden. The capital, Castries, is a popular cruise port.
The St Lucian authorities are working with the tourism industry to maintain a safe environment for visitors. Nevertheless, muggings and theft from hotels, yachts or holiday rentals do occur, and occasionally come with violence.
Key Facts
02
Laguages
English (official)
03
Currency
East Caribbean dollar (XCD), Tied to USD
04
Population
184,999 (2015 UN Estimate)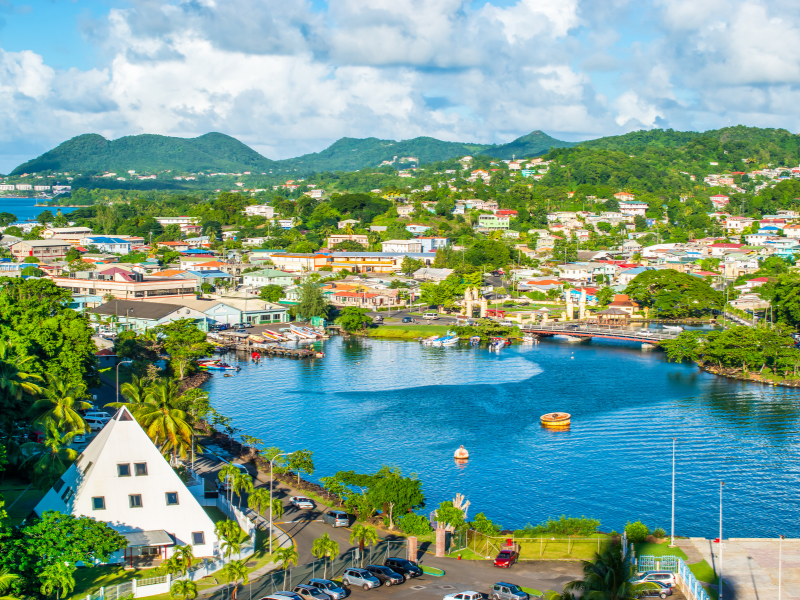 Processing Time
3-6 MONTHS
Donation or Investment From
150,000 USD
VISA-Free Travel Within
120+ COUNTRIES
Investment Options
The lowest cost route to gain Saint Lucia Citizenship is via a donation to the National Economic Fund. The minimum investment required is 100,000 USD for a single applicant,165,000 USD for a couple and 190,000 USD for a family of four. Additional due diligence and processing fees are also applicable and will vary depending on the applicants age and the size of their family.
100,000 USD
Contribution to NEF
Saint Lucia National Economic Fund is a special fund established under Section 33 of the Citizenship by Investment Act to allow qualified investments to fund government sponsored projects.
300,000 USD
Real Estate Projects
Applicants are required to purchase property with a minimum value of 300,000 USD from a list of approved real estate projects. Funds are deposited in an approved irrevocable escrow account managed jointly by the real estate developer and the Citizenship by Investment Unit in Saint Lucia.
500,000 USD
Government Bonds
Citizenship by investment may be made through the purchase of non-interest-bearing Government bonds. These bonds must be registered and remain in the name of the applicant for a 5 year holding period from the date of first issue and not collect interest.
BENEFITS
Straightforward, simple investment plans
Processing time 3-6 months
Limited number of documents to be submitted
No worldwide income tax
No personal income tax for non-residenceDual citizenship permitted
No landing or residency required
Visa Free access to approximately 120+ countries (UK; EU)
Our commitment to you!
At Raizing Citizen, we work exclusively on your behalf. We are devoted to providing a specialized service to each of our clients with the knowledge that comes with years of expertise. Most of all, we give the insight and an array of options that allow our clients to make and secure investments with confidence.
Book Consultation
Feel free to ask for details, don't save any questions!